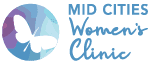 Unexpectedly pregnant and unsure what to do?
You have come to the right place. Our staff is trained to assist you in this uncertain time.
At Mid Cities, we understand that life doesn't always go as planned. Our compassionate staff of nurses, sonographers, and patient advocates are here to provide information that will allow you to make a confident decision. 
As you might already know, there are many things that will need to happen before you are ready to decide which option is best for you. Mid Cities Women's Clinic can assist you in every step. From our medical-grade pregnancy tests, sonographer staff and ultrasounds, to our patient advocates that can walk you through all of your options.
If you're looking for free pregnancy testing, ultrasounds to confirm the viability of your pregnancy, and to understand your options WE CAN HELP!
Here are some recent questions others have been asking
How much does abortion cost (or what is the average cost of an abortion)?
The average cost of an abortion in the US in the first trimester is approximately $500. Second trimester abortions average $1,500. However, abortion costs tend to be higher in states where abortion is more restricted.
Is abortion covered by insurance?
Insurance coverage for abortions varies by policy and provider. Insurance companies are not yet covering telehealth abortion care. It is best to call your insurance to find out if your insurance covers abortion.
Can I pay for an abortion out of pocket?
Yes, you can pay for an abortion out of pocket.
Should I get a free abortion or a cheap abortion?
The most important thing is to ensure you're being seen by a medical professional if you choose to have an abortion procedure. Your health is essential and needs to be protected.
Does the abortion pill cost the same as a surgical abortion?
No. The abortion pill costs between $320-$500. A surgical abortion costs between $1,000-$2,000 or more
No Judgement. No Pressure. Completely Confidential.
Hurst Euless Bedford Location 201 Westpark Way, Euless, TX
Our services are provided to clients without regard to age, race, income, nationality, religious affiliation, disability, or other arbitrary circumstances. In keeping with our non-profit, pro-woman mission, Mid Cities does not provide or refer for abortion services.
Copyright © 2020 All Rights Reserved